We are a Socratic Method Law School!
Most law schools in the United States teach by the question and answer Socratic Method. Under this system of legal instruction, students are assigned cases and statutes to read and brief before class.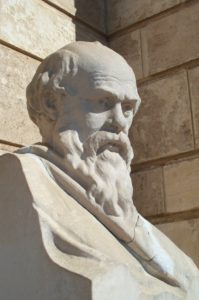 Then, in-class presentations are made and students are  questioned by the professors about the assigned cases and statutes, regarding the facts, rule of law or the court's reasoning.
Law schools use the Socratic Method in order to teach students how to analyze and make legal arguments, how to properly read and brief cases and lastly how to prepare for the pressures and rigors of a legal practice.  For an article on how the Socratic Method is not only utilized at law schools, but indeed is spreading to business schools, medical schools and beyond, go to Harvard Magazine.
In California School of Law's virtual classrooms, students and faculty discuss and argue rules of law, live and in real time. The virtual classroom have live video conference which provides all of the benefits of the Socratic Method. The program is not self-study, text messaging or a chat room, nor is it watching a DVD or  video download, as is done at other distance learning law schools.
California School of Law students form study groups that enable them to share ideas, research results, test strategies and develop valuable networking relationships, perhaps for a lifetime, as they would at a traditional residential law school.
At the California School of Law you will be challenged, as is necessary to develop highly-tuned analytical verbal and writing legal skills. But the School's curriculum, workload and pace are designed for persons who have full time jobs or have family commitments that would make it difficult or perhaps impossible for them to attend a traditional residential law school.