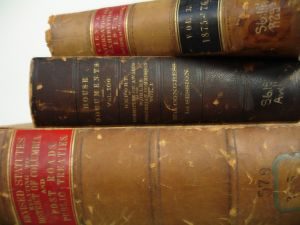 Students can find the 2L, 3L, 4L textbooks on numerous websites and in legal bookstores, the cost of textbooks is $200-$500 annually, depending on if new or used textbooks are purchased.
For one stop shopping for new textbooks we suggest Legal Books Distributing
Consider these outlets for new and used textbooks as well
DealOz.com,  amazon.com, textbooks.com, chegg.com, bookcase.com and barristerbooks.com
2L, 3L, 4L Textbooks
TRIAL ADVOCACY
1. Winning At Trial, NITA, 2007,
Author: D. Shane Read
ISBN-13: 978-1601560018
ISBN-10: 160156001X
2. William Strange v. James Wrigley: Case File, 3rd Edition
Andrew Rodovich
Paperback: 9781601565464
http://www.wklegaledu.com/NITA-Rodovich-Strange3
3. State v. Diamond, 6th Edition
ISBN: 9781601564771
Author: James H. Secking
6th Edition
http://www.wklegaledu.com/NITA-Seckinger-StateDiamond2
Community Property
1-Community Property in California, 7th Edition
Author: Grace Ganz Blumberg
ISBN 13 -978-1-4548-6818-7.
2-Examples & Explanations: California Community Property,  5th. Ed.
Author: Charlotte Goldberg.
ISBN-10: 1454868465  ISBN-13: 978-1454868460
Only for Students Taking the FYLSE
FYLSE Review
Nailing the Baby Bar: How to Write Contracts, Torts and Criminal Law Essays,  2005
Author: Tyler, Tim
ISBN: 187956355X
FAMILY LAW
Cases, Comments and Questions, 7th (American Casebook Series) 7th Edition
Author: Harry Krause, Elrod, Oldham
ISBN-13: 978-0314280251
ISBN-10: 0314280251
Family Law, Examples and Explanations
Author: Oliphant and Steegh
SBN-13: 978-1454815525
ISBN-10: 1454815523
Outline: Black Letter Outlines on Family Law, 4th Ed.
Author: Krause and. Meyer
ISBN: 9780314194480